The brand building of your business and eventual sale of your product or acquisition of a client is primarily dependent on how others perceive your business. To a large extent, this perception is influenced by the appearance of your place of business. When a potential customer or client first looks at your business building and finds it looking dirty and dismal, then they may ignore you even if your services are exemplary.
Give your business an edge over your competition
To keep your place of business looking pristine and clean, you can hire the services of a professional pressure washing business. The services of a commercial pressure washing Company are a necessity for a number of industrial buildings such as assembly plants or processing plants for meat etc. that produce an abundance of grease and fat. These places are difficult to clean through traditional means.
Irrespective of the type of business the pressure washing services is critical to your success, it not only makes your client or customer feel welcome, but it also shows that you are attentive to every part of your business. It highlights your business and advertises your business over your competitors, giving you an edge. The cleanliness of your premises signifies the quality of your goods and services.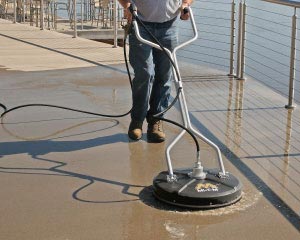 Boosts employee morale
The appearance of your business is important to your employees. The appearance of your business shows your seriousness and your intent and that in turn sets the employees behavior and attitude to their work. It has been seen that the cleanliness of business increases the overall productivity. A clean business place allows and motivates your employees to focus on their work resulting in better services and eventually better revenues.
Saves money and time
The employees in your business handle most of the mundane cleaning task, but for certain tasks, you need proper equipment's and a trained person to handle these equipment. The pressure cleaning equipment and other landscaping equipment are expensive and maintaining trained employees solely to operate these equipment is very costly. In the long run, hiring a pressure cleaning and landscaping professional is cost effective and time saving. Plus, a professional company delivers better results.
A worthwhile investment
Your investment in an annual maintenance contract with a landscaping and pressure cleaning company will create a basis of increased sales and productivity. The Company will provide round the year cleaning services to keep your business place clean and pristine at all times. Such companies also provide alternatives to work with your schedule, so that during your working hours the cleaning technicians are not there to disturb your customers and employees.
As a business owner, you need to be aware of the importance of cleaning and maintaining the exteriors of your business place like the walls, sidewalks, lawns, etc. Many a business owner that ignores this thing are losing money all the time and the important part is that they are not even aware of it.
To bring in new business as well as increase your productivity and revenues, simply hire a pressure washing and landscaping Company. Remember a client or a customer needs to come inside your place of business to purchase your product or services and to achieve this you need to focus on the cleanliness and appearance of your store or office.
Author's Bio:
Stephen Tomalin has written this guest post. For the best in landscaping and pressure washing business in Toronto, just look for NICK'S Window Cleaning Company. They provide the best rates and fastest job completion in the industry. They offer an array of services to keep your place looking clean and pristine. Please visit their website for details about the Company and to get a free, no obligation quotes for a service.